Who We Are
Performance Improvement is an experienced, unbiased business process management (BPM) consulting firm that assists companies in improving processes for optimum performance resulting in bottom-line financial and productivity savings through enhanced operating efficiencies. The performance of an organization depends on high performing and functionally efficient processes, particularly those that are vital to an organization
We provide enterprise business process and document management services that help companies to reduce their operating cost, optimize their efficiency, and meet compliance requirements; while providing them with the ability to react to a constantly changing business environment.
Performance Improvement provides business process management (BPM) consulting services to the services sector with a focus on financial, government, manufacturing, life-sciences and healthcare particularly hospitals, physician clinics, diagnostic laboratories and other healthcare providers. We are healthcare experts that understand reimbursement business process requirement needs and can identify appropriate technology tools for developing & implementing a 'best practice' reimbursement and collections solution.
We do not sell software, hardware or integration services nor are we affiliated with any Business Process Management or Enterprise Content Management software vendors.
What Problems We Resolve
To compete in today's marketplace business processes must be optimized to assure that work and related information is being delivered through the entire process in a timely and value-added manner. Business managers should have visibility and control over the entire "end-to-end" process regardless of the length or complexity of the process.
The drive for operational excellence is a constantly moving target due to our ever-changing business climate. New regulation, new competitors, changing products, etc., are the status quo. Companies must be nimble to respond to this constantly changing business climate.
Performance Improvement provides assistance in helping companies in strategically defining a formula for success as shown with the following graphic: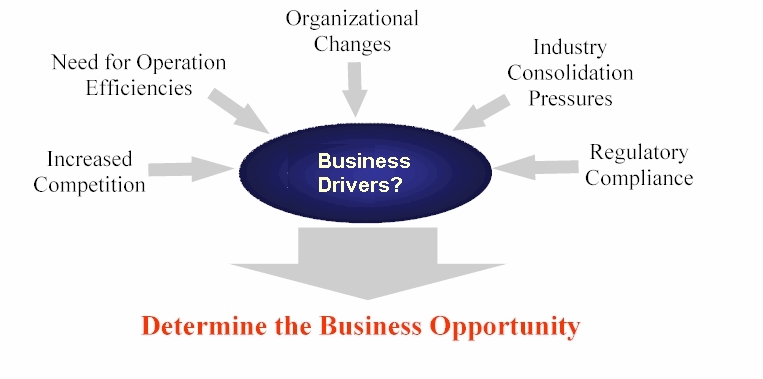 How We Resolve Problems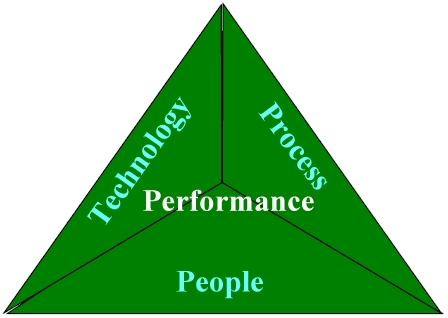 Performance Improvement uses a proven "Process Centric" methodology to assist our clients' in understanding their business requirement needs and identifying improvement/ redesign opportunities. This "Process Centric" methodology provides companies with a holistic view of the entire business process and enables us to evaluate the overall general health of the processes. This holistic approach evaluates targeted processes including how work efforts involving people, documents, and information systems are used though the entire process. This includes inputs, throughput and outputs. We partner to form a Team approach that utilizes our clients' Subject Matter Experts, allowing them to perform their duties while keeping them directly engaged throughout the project.
Using a holistic diagnostic and objective approach minimizes the potential for implementing a point solution that only addresses an immediate need and may have to be replaced as the system is expanded through the organization or as business models change.
Services We Provide
Performance Improvement provides business process and document management services depending on client need. The three core services areas include analyze, procurement and implementation. The graphic below shows the range of services we provide according to the need.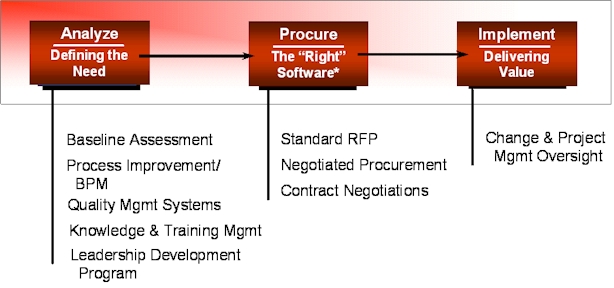 We can provide a range of services from conducting a completely unbiased baseline assessment to process improvement and redesign. We also provide procurement and implementation oversight services for process improvement solutions requiring a BPM or ECM technology. A complete listing of services that we provide include:
Baseline Diagnostic Assessment
Business Process Management

Process Improvement
Process Redesign and Management
Revenue Cycle Management
Process Workflow Modeling and Analysis
Implementation and Oversight Management

Procurement - BPM and Enterprise Content Management Tool Selection
Quality Management
High-Performance Workforce – Leadership Transformation